We're so glad you're part of the Regent Family!
We acknowledge that it can be difficult to navigate the different communication platforms, particularly given the administrative overload of modern life. Our main parent interface for administrative matters is Parent Lounge. We also use SeeSaw and are commencing Microsoft Teams to support face-to-face learning for students. Newsletters are sent to your email and can be accessed via Parent Lounge. Class Parent Reps use Signal Messenger for sharing of class-specific information and support. You can find more information for current families below. 
Parent Lounge enables families to stay connected with Regent College throughout their child's learning journey.
Within Parent Lounge, families can sign up for extracurricular activities, view academic reports, view the school calendar and newsletters, lodge absentees, update student medical information, and much more!
The College understands that students will occasionally be unwell and unable to attend school.
If your child is sick and cannot attend school, please let us know via Parent Lounge before the start of school.
An SMS is sent to families by 9:15am when a student has an unexplained absence.
Any students departing the College early or arriving late, must be signed in/out via Administration.
1.     Log in to Parent Lounge with your username and password.
2.     Under Student Details select Attendance
3.     Then select +Add Absence Notification (top right)
4.     Select the student/s to be marked absent
5.     Select date from and date to
6.     Select Type of Absence
7.     Select Reason for absence
8.     Add any comments, instructions, and a medical certificate if applicable.
9.     Click the +Submit New button
Absence Notification complete!
Your request will be sent to the office for final approval into our student information system. 
Please contact the college if you have any issues.
T:  08 9470 4569
E: admin@regentcollege.wa.edu.au
Families can find account statements on Parent Lounge.

If you have any accounts queries you are welcome to contact the College Business Manager, Cristina Sugiarto via College Administration.
E: admin@regentcollege.wa.edu.au
T: 08 9470 4569
On Parent Lounge, Families are able to acknowledge excursion and incursions.
Although parents provide annual consent for their child to attend excursions at the start of the year, the College still requires permission for the majority of excursions/events that go off-site and any incursions that have an elevated-risk element.  This ensures that parents are aware of the event, and provides the opportunity to verify their child's medical details before the event date. 
2023
TERM 1 (10 Weeks) :: 1 Feb – 6 Apr
– Labour Day: 6 March
TERM 2 (10 Weeks) :: 26 Apr – 30 Jun
– Student Free Day: 24 April
– ANZAC Day: 25 April
– Student Free Day: 2 June
– WA Day: 5 June
TERM 3 (10 Weeks) :: 18 Jul – 21 Sept
– Student Free Day: 17 July
– King's Birthday: 25 September

TERM 4 (9 Weeks) :: 9 Oct – 8 Dec
2024
Unless otherwise communicated, the first formal assembly occurs on the Wednesday of Week 2, each term.
Assemblies generally follow each Wednesday, for the remainder of term. Assemblies commence following the school bell (approximately 8.40am) and usually concludes by 9.15am.
The schedule of classes overseeing each assembly will be advertised in the College Calendar and communicated to parents by the classroom teacher.
Regent College uses a number of different applications and platforms to support learning and communication between the College and Families.
Log into Parent Lounge for more information about each application.
At Regent College we partner with the following providers to support students. Please note that the Speech Pathologist and Occupational Therapist are private clinicians and not directly employed by the College. Regent College does receive any monetary benefit/commission from the provision of these services.
Students have access to a speech pathologist who holds clinics on the school grounds. The speech pathologist conducts initial screening assessments which are included in school fees. Further  assessments, reports and/or therapy carried out incur private fees. The speech pathologist's contact details are forwarded to families at the start of each year. 
Refer to Speech Pathology Australia for further information about the role of a speech pathologist.
The school nurse performs routine vision and hearing checks for children aged 4-6 years in Kindergarten and Pre-Primary. Parents will be notified when this will occur. Throughout the year, teachers or parents may request a review of vision and hearing from the school nurse if there is a concern. It is expected that vaccinations are up to date prior to the commencement of Kindergarten.
Occupational Therapy (OT)
Students have access to an occupational therapist who holds clinics on the school grounds. Initial screening tests are included in school fees however further assessments, reports and/or therapy incur private costs. The occupational therapist's contact details are forwarded to families at the start of each school year. 
Refer to Occupational Therapy Australia for further information about the role of an Occupational Therapy.
The College offers a food delivery service on Monday, Wednesday and Friday during the term.

Food will be provided by Locavora and can be ordered in advance online via the Locavora Schools Online Order Page.
Click here for instructions on how to register for a new account on the Locavora Platform.
Please make sure your child's name and classroom is correct before submitting your order.
At Regent College we encourage parents and families to be involved as much as possible, and endeavour to provide opportunities after hours for those parents who work during the day.
Parents and families can be involved in many ways, including:
Class helper
Special occasions 
Excursions and Incursions
The classroom teachers will often request assistance for various events; alternatively, parents are invited to ask where and when they can assist.
All parents and families will be asked to read and complete a Volunteer Declaration prior to serving.
Parental Visits During School Hours
Parents may be visiting during school hours to assist in their child's classroom, attend an excursion, or to collect their child for an appointment. For all these scenarios, we ask that Parents please first visit the College Administration and sign in using the visitor management system tablet.
Parents are not required to sign in when:
Attending assembly
Picking their child up the end of the school day
Attending a promoted event (eg Graduation Ceremony)
Attending an outside school hours event (College Concert at Riverview Church)
Arriving at Regent College safely
Kiss and Drive
The most efficient way of dropping your child to school and collecting after school. More information below.
Parking
There is street parking available in the streets surrounding the college (mostly time limited).

Public Transport
Transperth Bus Routes 72 and 75 stop on Geddes St after Horden St (Stop No: 11741). Click here for bus routes.
Walking & Cycling
If you can, get to school early, park without stress and walk to school with your child while feeling virtuous.
Car-Pooling
Is a terrific way to reduce parking and traffic stress; also, a great way to develop school community relationships.
School drop off and pick up
Morning – Drop Off:
All students: 8:05am – 8:30am
Afternoon – Pick Up
Kindergarten & Pre-Primary: 2:50pm – 3:00pm
Year 1 – Year 6: 3:00pm – 3:25pm
Delaying pick up (Years 1-6) until between 3:15pm – 3:25pm helps with traffic flow.
Kiss and Drive runs along Hordern Street.
There is clear marking on the road to help navigate.
Cars should NOT queue for Kiss and Drive along Hordern Street SOUTH of Geddes St to avoid intersection congestion.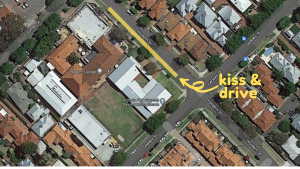 No parking in the designated Kiss and Drive zone before school (between 7:30-9:00am) and after school (between 2:30-4:00pm). If a car is left attended during these times, you are likely to receive a parking infringement from the Town of Victoria Park.

Pull vehicle right up to the front of the Kiss and Drive queue before unbuckling children from seats. Do not permit students to enter or exit the vehicle from the back of the queue; it slows down the process and can be unsafe.

Parents must not get out of their vehicles for any reason. If support is required, remain in the car queue and wind down your passenger window when you approach the front. A staff member will provide support.

Kindergarten/Pre-primary students will be assisted by staff members, and older students should be fully independent (but will be supervised).

Students must exit and enter the vehicle from the school side of the vehicle – never independently on the traffic side. This may require booster seats to be shifted to the left side of the vehicle.

Parents must not park their car on the opposite side of the road to Kiss and Drive and then walk students across the road; to drop-off, or collect.

Use of the student/family name dashboard signs (will be provided to new families early Term 1) to help staff to prepare for pick up.  It really does help.

Do not send friends or relatives unannounced to collect students from Kiss and Drive. The College must be informed in advance concerning any new 'collectors' with details, including ID provided.

Please do not use mobile phones while driving or queuing in Kiss and Drive – as is the Law. 
Children under the age of 7 years old are not legally permitted to occupy the front passenger seat of a vehicle (unless all rear seats are occupied by younger children). Kidsafe recommends however that children should not sit in the front seat until 12 years old (particularly when the vehicle is fitted with an airbag). 
Correctly fitted child car restraints are required for children under 7 years old who have not outgrown the height marker on the car restraint. Over 7 years old, children are recommended to remain in the booster until they physically outgrow it. Refer to Kidsafe (Western Australia) website for more information.
Wearing the College uniform correctly is a condition of enrolment and fosters a sense of belonging for students.
Parents are requested to check that their child is dressed correctly in the College uniform each day, ensuring that all components are neat and in good order.
If a student digresses from the College uniform, the student will receive a verbal reminder and a Uniform Infringement notification will be sent home by the classroom teacher. Please treat this as a gentle reminder but it is a genuine request that any incorrect components are to be addressed.
Uniform Schedule 2023
Formal Summer Uniform: Term 1 & 4
Formal Winter Uniform: Term 2 & 3
The uniform day schedule is listed below.
MONDAY
PE Uniform: 3A, 3B, 5A, 5B, 6A
Formal Uniform: 1A, 1B, 2A, 2B, 4A, 4B
TUESDAY
PE Uniform: 1A, 1B, 2A, 2B
Formal Uniform: 3A, 3B, 4A, 4B, 5A, 5B, 6A
WEDNESDAY
PE Uniform: 4A, 4B, 5A, 5B
Formal Uniform: 1A, 1B, 2A, 2B, 3A, 3B, 6A
THURSDAY
PE Uniform: 1A, 1B, 2A, 2B, 3A, 3B 4A, 4B, 6A
Formal Uniform: 5A, 5B
FRIDAY
PE Uniform: N/A 
Formal Uniform: 1A, 1B, 2A, 2B, 3A, 3B, 4A, 4B, 5A, 5B, 6A 
The College Uniform Shop open hours during the school term are:

Monday afternoon – 2:30pm to 3:30pm

Wednesday morning – 8:30am to 10:30am

 (excluding Public Holidays)
Parents/Guardians can purchase uniforms at any time by following these steps:
1. Completing an online order form
2. Saving/downloading the completed form
3. Emailing the completed form to the Uniform Shop (uniformshop@regentcollege.wa.edu.au)
You will be notified when your order is complete. If the order has been paid, it will be sent home with your child. Orders still requiring payment can be paid for and collected at the Uniform Shop or at Administration.
Uniform Shop Manager: Cristina Sugiarto
(also College Business Manager)
Uniform Shop: uniformshop@regentcollege.wa.edu.au
Or you can call College Administration on
(08) 9470 4569.
If the Uniform Shop is staffed (Monday afternoons & Wednesday mornings) your call will be transferred to the shop, or a message will be taken and passed on.
         Regent College graduates choose to complete their high school years at a range of educational settings.         Below are a few options for your consideration. 
Looking for a Public School?
Public Schools take students from catchment areas which are specific to where you live. If you are looking for a public/government school we recommend you visit the Department of Education website.
Looking for an Independent School?
Regent College is part Association of Independent Schools of Western Australia (AISWA). If you are looking for an independent shool in WA we recommend you visit the AISWA website.
Looking for a Christian School?
Regent College is part of the Christian Schools Australia (CSA) association. If you are looking for a Christian School in WA we recommend you visit the CSA website.