"I believe in Christianity as I believe that the sun has risen: not only because I see it, but because by it I see everything else" - CS Lewis
We would like to provide some background about our Christian Faith, so that when we speak about how it influences our work as educators, there is shared understanding about what that means.
In a school like Regent College, the staff are all Christians. We come from diverse Christian backgrounds but are united in our desire to have a positive impact on our community. We have an obvious Christian flavour within the classroom with worship and devotions. We also follow a formal curriculum in a subject called Christian Living. We talk openly about spiritual themes and pray in class.
You may have questions about the relevance of Christianity in today's world. We hope our college is a place where these thoughts and feelings can be explored without judgement. We believe that it is through God's grace we are saved, not through good works or actions.
This is why we talk about the "Good News" of the gospels. 
"God saved you by his grace when you believed.
And you can't take credit for this; it is a gift from God"
Ephesians 2:8, New Living Translation
There are some other obvious differences at our school. For example, we don't celebrate Halloween. For dress up days (ie Book Week) we avoid frightening or scary costumes. 
Our value system and culture is informed by Christianity. In this way, we aim to demonstrate the "fruit of the spirit" which includes "love, joy, peace, patience, kindness, goodness, faithfulness, gentleness and self-control (Galatians 5:22-23, NLT).  Practically, this  translates to encouraging students to look out for one another and consider other's needs in and out of the classroom.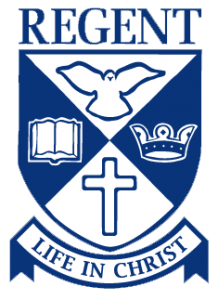 'Life in Christ' acknowledges the growth, learning and abundant life found in following Christ. "Since you have been raised to new life with Christ, set your sights on the realities of heaven, where Christ sits in the place of honor at God's right hand". Colossians 3:1, New Living Translation.
Regent College exists to educate students to become fully developed followers of Christ. The name "Regent" was chosen to acknowledge our role as representatives of Christ on Earth. According to the Collins dictionary, a regent is "the ruler or administrator of a country during the minority, absence or incapacity of its monarch". Taking this further, as "regents" we should aim to be Christ-like (ie caring for others, being loving and compassionate) and focussed on taking good care of the kingdom. The good news is that eternal life is a free gift and it is not earned or deserved.